NLCP's Associate Board is the backbone of our community. These young leaders support NLCP through fundraising, mentoring and school services, and embody our mission while sharing their talents.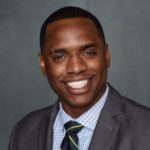 "Raised in a single-parent household, in one of the nation's most violent and impoverished communities, I was faced with many of the same challenges NLCP students encounter. I got involved with NLCP because it is a very special place where hope is restored and future leaders are groomed. The Associate Board is committed to supporting NLCP and its Board of Directors by promoting awareness and encouraging involvement through effective community action in the form of fundraising, mentoring and various other school services." – Topher Bates, NLCP Associate Board Chair
Pass It On!
This annual spring event, helps fund vital school services including summer enrichment programs for current students and care packages for alumni who are in college. Plus, it's a great time! Last year's PASS IT ON event raised $150,000 and 40 graduating seniors were celebrated.
For more information about PASS IT ON, visit passiton.nlcphs.org.
Mentoring
Associate Board members mentor NLCP students to provide the thoughtful, caring counsel of another adult influence during life's difficult transitions, plus someone to help celebrate when things are going well. They may also help secure donations of clothing or other items that NLCP students sometimes need.
Send us a note if you'd like to learn more about the Associate Board: nlcpassociateboard@gmail.com
Connect with us on Facebook:​https://www.facebook.com/nlcpboard/
2018-19 NLCP Associate Board
| | |
| --- | --- |
| Topher Bates – Chair | Jaime Archer |
| Eric Baas | Jessica Bradis |
| Fred Brewer | Patrick Burkhart |
| Rebecca Burkhart | Ben Eder |
| Jessica Eisenbeis | Alejandra Esqueda Belmonte |
| Brandon Hummons | Sophia Kang |
| Jessica Lau | Alex Lindsey |
| Erica Lindsey | Emma Lockmiller |
| Marron Mahoney | Deron Nardo |
| Kirby Nardo | Mary Kate Raminski |
| Darrian Thomas | Erin Weber |
| Kasey Bates | Taurean Brown |
| Abbie Castiglione | Michelle Christens |
| John Horan | Laura Kochlefl |
| Kelly Martin | Julie Nilan |
| Crystal Patel | Ariana Rasansky |
| Steve Ray | Krystin Simoy |
| Lorenza Taylor | Stephen Taylor |
| Garland Thomas-McDavid | Taylor Weaver |
| Evan Westerfield | |
| | |