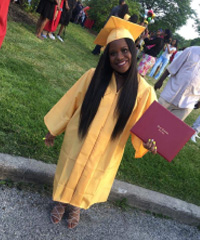 How do I apply to a North Lawndale College Prep campus?
North Lawndale College Prep (NLCP) is one high school in two campuses, and is open to all Chicago families and students. Students and families who are interested applying should contact the school directly 773-542-6766
North Lawndale College Prep Enrollment Facts:
There is no tuition fee to attend.
No entrance exams are required.
North Lawndale College Prep is open to all students, regardless of race, ethnicity, gender, socioeconomic status, or disability status.
For more information, please call (773) 542-6766.
Collins Campus
1313 S. Sacramento Blvd
Chicago, IL 60623
 Christiana Campus
1615 S. Christiana Ave
Chicago, IL 60623
Does NLCP only accept certain students? How can I enroll my child in a NLCP School?
NLCP believes that all students should be prepared for success in college, the workplace, and life. We firmly believe that the background of our students is not the determining factor in how far they will go in life. That said, all NLCP schools are tuition-free open enrollment, college preparatory public schools. Students must be Chicago residents.  8th Grade students should Rank NLCP #1 in GoCPS.  Students who wish to transfer to NLCP for 10th,11th or 12th grade should contact the school directly.
Transfer Admissions Process
Transfer students should come to either NLCP campus and fill out an application with current transcript to start the admissions process. Transfer candidates must have enough credits for the grade for which they are seeking admission.
Are you an 8th Grader interested in applying for the 2019-2020 School year?
Get a jumpstart and activate your go.cps.edu account click here to activate go.cps.edu!
Don't forget to rank us #1 on your school selection choice.  Round 1 for GoCPS closes on December 14!
Join Us For Our Open Houses and Shadow Days