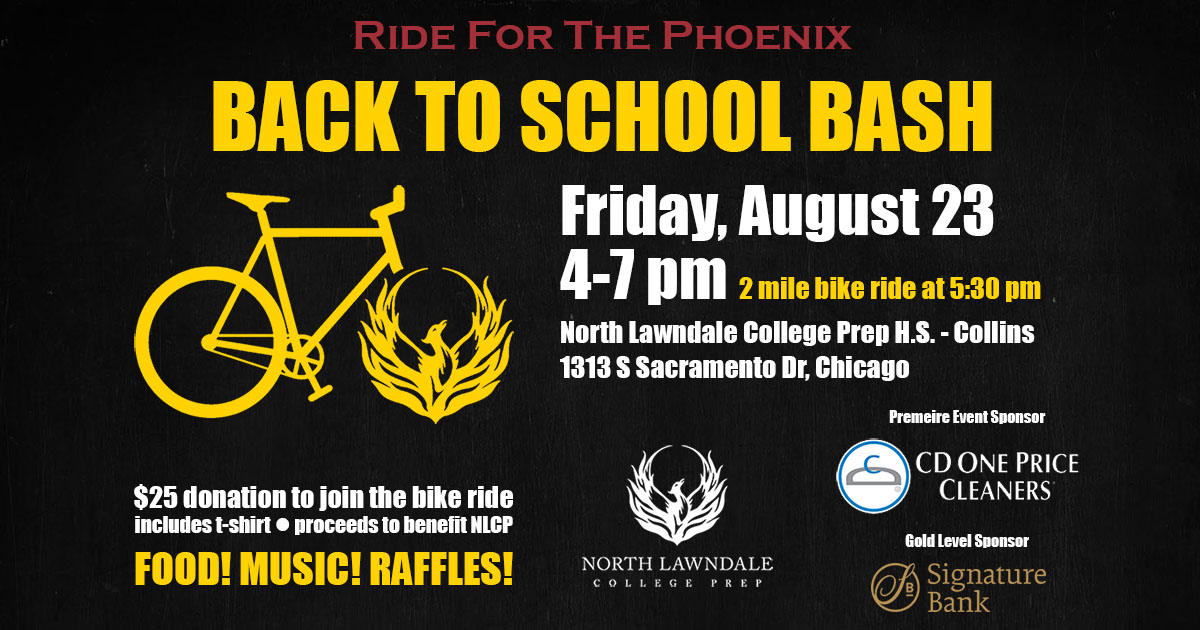 Join us for these events where the NLCP community comes together to support the work of students and the school!
For sponsorship opportunities, please contact Director of Development, Suellen Wolk at (773) 542-6766 x420 or swolk@nlcphs.org.
---
Ride For The Phoenix BACK TO SCHOOL BASH Fri, Aug 23, 4-7pm
Celebrate the end of the cross-country ride with our Back To School Bash and Two-Mile Ride! Join us outside at NLCP's Collins campus (1313 S. Sacramento Dr.) for raffles, music, free food, and more!
Entry to the Bash is free. Entry for the bike ride is $25. Our two-mile route runs around part of beautiful Douglas Park, near our Collins Campus. We'll set off from the school parking lot at 5:30pm. Before and after the ride, bikes can be secured in our gym, where a volunteer will be present.
REGISTER NOW
with a $25 donation (or raise $25 to participate.) Free t-shirt included! 
All proceeds will benefit NLCP scholars as we work to empower them with the tools necessary to go to and through college.
---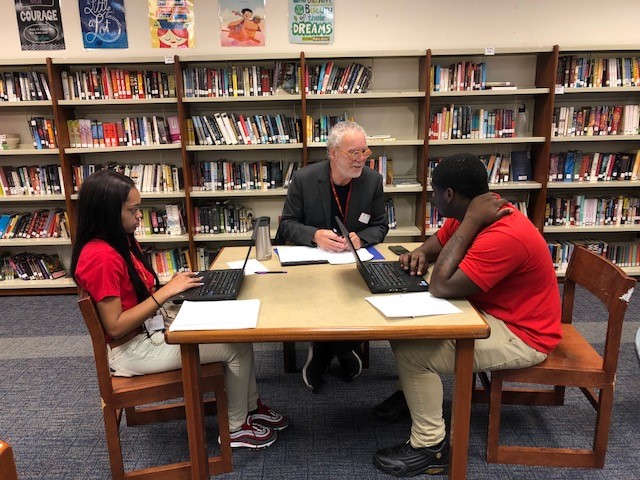 2019 Senior Project Mentoring
Sept 18, Oct 16, & Nov 20, 8:30-10:30 am
Senior Project is an NLCP distinctive — one way in which we guide our senior scholars toward college readiness. During first semester of their 12th grade year, students research and write a paper based on a driving questions of their choice, and they will later present their work to a panel of staff and volunteers. Besides the academic skills gained, we believe another important piece of the project is the interaction students have with adult professionals who volunteer to mentor students during this process. Each volunteer mentor will work with one to two students during each of three fall sessions listed above.
REGISTER to confirm your commitment to this fall's three Mentor Days and to provide us with some additional information that will be helpful as we work to create scholar-mentor pairings ahead of the first Mentor Day on September 18.
In the meantime, if you have any questions, please direct them to the Development Team: development@nlcphs.org.