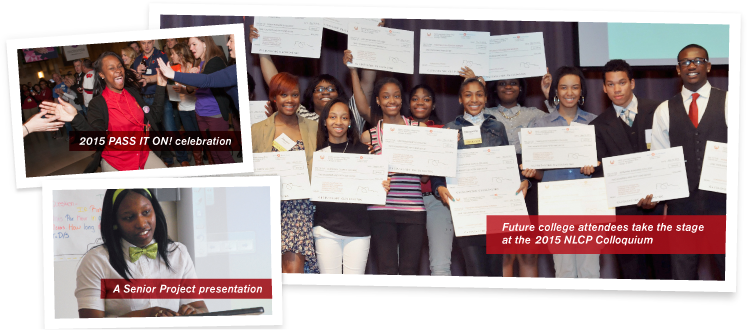 Join us for these events where the NLCP community comes together to support the work of students and the school!
For sponsorship opportunities, please contact Director of Development, Suellen Wolk at (773) 542-6766 x420 or swolk@nlcphs.org.
Phoenix Colloquium 2019 – March 26, 2019
Each spring, NLCP hosts an event called Phoenix Colloquium, the capstone of our annual Senior Project. Now in its sixth year, the event brings together students, NLCP families, staff, and community members, as well as NLCP donors and volunteers, to hear presentations and see supporting work from senior Colloquium participants. These students gave exemplary presentations at the conclusion of their senior project that are worthy of a larger audience. Colloquium is where we celebrate these senior scholars and give them the opportunity to compete for $1,000 college scholarships.
This year's Colloquium is Tuesday, March 26, 2019, from 5-8:30 pm at our Collins Campus.
To see a previous Colloquium in action, click here.
PASS IT ON! – April 25, 2019
Our annual spring celebration and fundraiser brings together young professionals, business executives, NLCP staff, and our school's college-bound seniors for a night to celebrate the beginning of the students' next chapter into college. Wear your college gear; meet and share college stories with these talented seniors, and bid on auction items to support the work of NLCP.
This year's event is Thursday, April 25, 2019 at Dirtt (325 N Wells St #1000, Chicago). Check back soon for ticket sale info.
Ride for the Phoenix – Summer 2019
Join some of NLCP's friends for part two of a cross-country bike ride to raise money for our school! This summer's ride will begin on July 15 in Brookings, South Dakota and will end August 10 in Portland, Maine. (It will also include a July 23 rally stop in Chicago!) More info to come soon!