Volunteer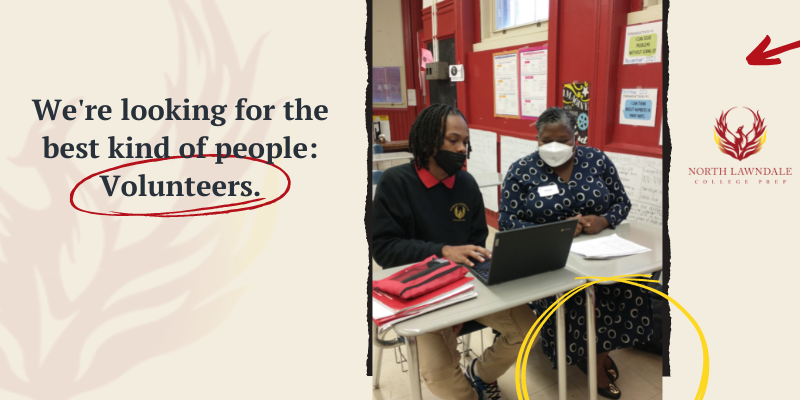 Volunteers Matter
Just like donors, volunteers help us carry out our mission to develop transformational leaders. By donating your time, you help strengthen a school community focused on getting students to and through college.

When noted, you must have an NLCP background check no older than 3 years on file prior to volunteering.
Background checks must be done through Accurate Biometrics. Appointment aren't necessary and the process is of no cost to you. Email your receipt or present it the day of your volunteer activity to begin. Confidentiality agreements are required as well, and linked below. This process is done to ensure the safety of our students.
Email Kendra Fortenberry at kfortenberry@nlcphs.org to submit your forms or to ask any questions regarding upcoming volunteer opportunities, touring NLCP and more.
Accurate Biometrics Background Check
Volunteer/Visitor Confidentiality Agreement
---
Volunteer
Black History Month – Wellness Fridays
NLCP is looking for enthusiasts of yoga, meditation and wellness to help our staff take our care of their minds and bodies each Friday during a volunteer led wellness session.
1615 S Christiana Ave
1313 S Sacramento Dr
Chicago, IL 60623


Fat Tuesday
Celebrate our educators on Fat Tuesday with music, fun, and King Cake! You'll be able to chat with staff, learn more about NLCP and its work, and add much needed enjoyment to the workday – New Orleans Style!
11:30 AM – 1:00 PM
1615 S Christiana Ave
1313 S Sacramento Dr
Chicago, IL 60623


Trivia Night
Join the Trivia Night volunteer committee. Trivia Night will take place March 16th. Leading up to the event you' will 'll help us with auction item procurement, promote tickets sales and assist on the night of the event.
6PM – 9PM
CHICAT
1701 W 13th St
Chicago, IL 60608

Senior Project Mentorship
Each Senior class is put through a year long process of writing and researching a topic of their choice. Seniors present their projects to a panel as the last step before graduation. As a volunteer, you' will 'll meet with your mentee 3 times a year and provide guidance on their work.

Background check required.
 
1615 S Christiana Ave
1313 S Sacramento Dr
Chicago, IL 60623

Join Our Mailing List
Fill in your first name, last name, and email address to remain current on upcoming volunteer opportunities.